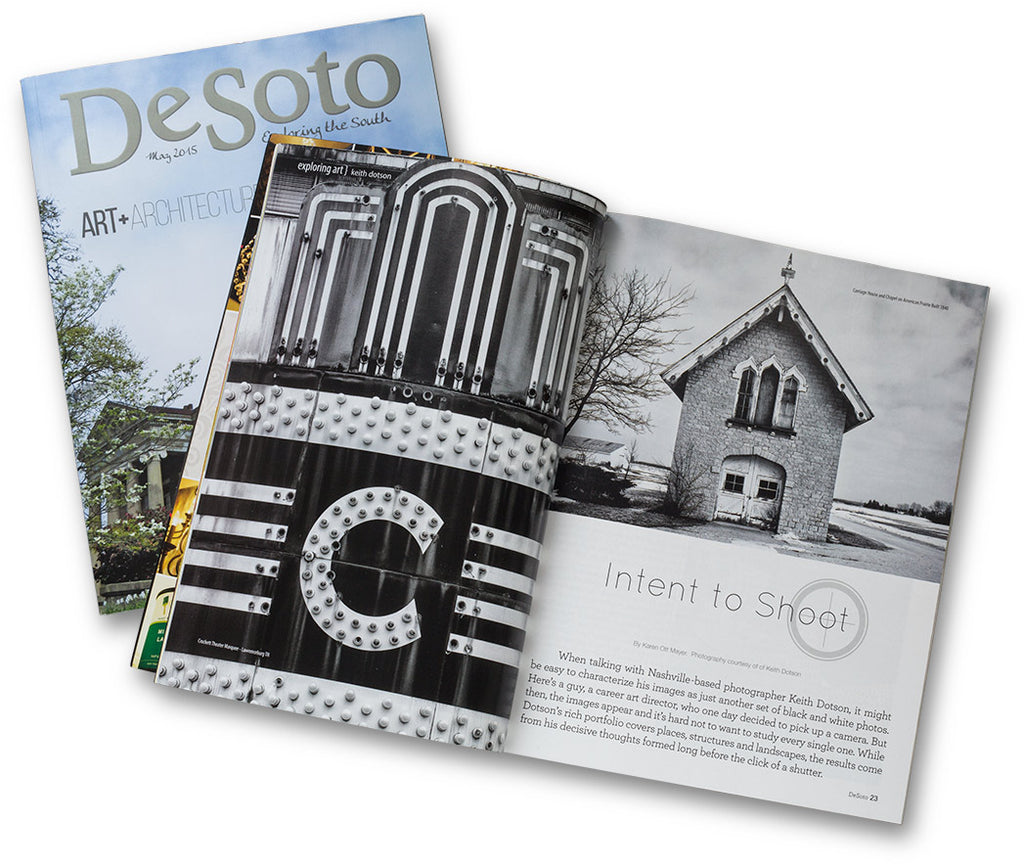 DeSoto Magazine: Exploring the South features Keith Dotson photographs as part of its 2015 Art + Architecture Edition
Intent to shoot
DeSoto Magazine, Exploring the South has published a wonderful discussion of Keith's work and career by Karen Ott Mayer. Speaking by telephone for over an hour, their conversation covered a lot of ground, from the inspirational photographs of Edward Burtynsky, to former careers in advertising, and the sensation of "ghosts" one feels when photographing abandoned buildings like Louisville's Quinn Chapel.
See Keith's spread in DeSoto Magazine's May 2015 edition.

Ms. Mayer deftly stitched together many ramblings, musings, and non sequiturs into a cohesive article based around Keith's interest in architectural photography and the spirit of place. The request for the interview was a complete surprise, turned out to be a delightful experience.

The title of the article, "Intent to Shoot," comes from the earliest days of Keith's photography career, when he realized he had developed a passion for photography and began "shooting with intent." In other words, photography was no longer a sideline activity to other things, but instead photography was THE activity.

You can read the article here, beginning on page 25 — "Keith Dotson: Intent to Shoot."
The featured photos
The interview is accompanied by four of Keith's black and white architectural photographs. Here's a little more about each of the featured images.


Crockett Theater Marquee, Lawrenceburg Tennessee (A0007810)

Old Crockett Theater Marquee, Lawrenceburg, Tennessee — The historic Crockett Theater in Lawrenceburg, Tennessee was built in 1950 and remains in use today. It has seen live performances from legendary acts like Percy Sledge and The Carter Family with Mother Maybelle. The theater takes its name from Davy Crockett, who moved to Lawrenceburg, Tennessee in 1817 and served in a number of official capacities, including justice of the peace, militia officer, and Tennessee state representative. He also became a business owner, opening a mill on the nearby Sycamore River (now called Shoal Creek), on property that became the verdant and hilly David Crockett State Park. After a flood destroyed his mill, Crockett moved further west, eventually landing in Texas and meeting his fate at the Alamo.

Buy a print


Carriage House and Chapel on the American Prairie, built 1840, black and white photograph by Keith Dotson. Click to buy a fine print of this photo.

Carriage House and Chapel on the American Prairie, Built Circa 1840s — You may have seen this photograph in its recurring role on the set of popular television show Melissa and Joey, appearing weekly for three seasons.

The photograph shows a unique limestone and wood structure, with a chapel on the upper floor and a carriage house on the ground floor. Built in the 1840s by immigrants from New England, Elisha & Belinda Edgerton, who arrived in Dousman, Wisconsin (near Milwaukee) by ox cart on a dirt road. The chapel was named "The Chapel of Santa Maria," and went on to become St. Mary's Episcopal Church, which still exists nearby.

Buy a print

 


Charleston – Rutledge House, 2012, (RQ0A0318)

Rutledge House, Charleston — The Edward Rutledge house in Charleston was built in 1787 and was the home of Edward Rutledge, a signer of the Declaration of Independence and Governor of South Carolina.

Buy a print

 


Abandoned Quinn Chapel Architectural Detail, Louisville (RQ0A8134). Click to buy a photograph.

Abandoned Quinn Chapel, Louisville — This dignified old building is Quinn Chapel, a neglected architectural gem that anchors the corner lot on West Chestnut Street, in a declining neighborhood near the Louisville business district. The Gothic Revival church was built in 1884, and includes remarkable design details. Now, as the paint peels, the structure slowly crumbles, and nature begins the reclamation process, I felt the urge to celebrate its former beauty and current state of aged grace.

Buy a print


Thanks for reading!
Be sure to visit Keith on Facebook, YouTube, Instagram, or Pinterest.
---
Publishers and editors: Interested in featuring Keith's work in your publication or website? Send a message here.