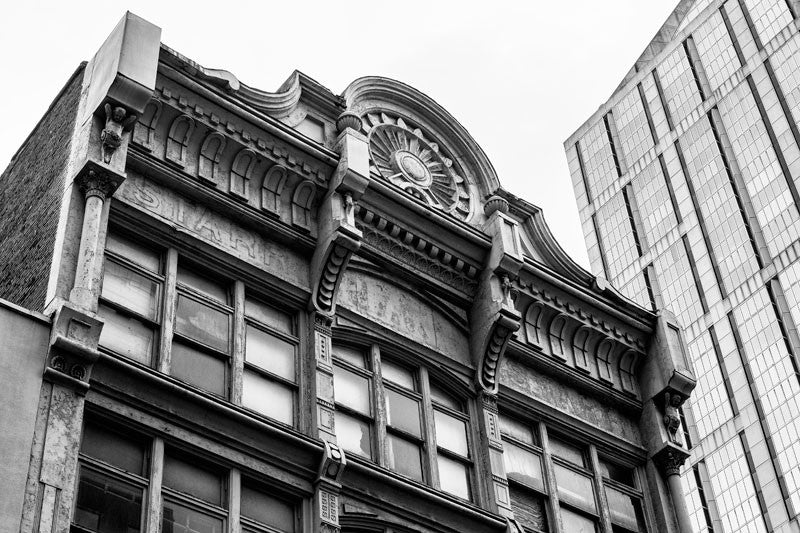 New in the Nashville portfolio: a black and white photograph of the historic Starr Piano Building 
The historic Starr Piano Building (also called the French-Starr Building) on 5th Avenue in Nashville, Tennessee was built in 1889, originally as a retail outlet for Jesse French and Sons Piano & Organ Company. French later merged with the Starr Piano Company, which manufactured pianos and published sheet music, with special emphasis on ragtime, making it an early contributor to the establishment of Nashville as Music City.  
---
Above: The French-Starr Piano Building, Nashville, black and white photograph by Keith Dotson. Click to buy a fine print of this photograph.
---
History of the Starr Piano Building
A National Park Service Historic American Buildings Survey details the history of the building's owners and occupants, a written description of the ornate sheet metal exterior, and the history of the US business and social climate leading up to the opening of the piano business in Nashville. Below is an excerpt from the survey.
"The Jesse French Piano & Organ Company Building was erected in ca. 1889-90. It is a four-story commercial brick construction, built broadly in a Queen Anne style, and has an elaborate sheet metal façade that is one the most ornate in downtown Nashville.

The original occupant of the building was the Jesse French Piano & Organ Company which had been founded in Nashville in the 1870s. Its eponymous owner was a canny and musically-inclined businessman whose firm flourished in the latter part of the nineteenth century by meeting the growing demand for pianos. During that era, a piano embodied respectability, civility and the 'cultural refinement associated with England's Victorian lifestyle' and was therefore a common feature of middle-class American parlors. As a result, French's company, which sold several brands of pianos and organs, grew rapidly and established retail outlets in a number of major cities across the South.

The Jesse French Piano and Organ Co building was located in the heart of Nashville's downtown area in a street frequented by middle- and upper-class women. The scale of the structure, the attention to design detail both on its interior and exterior, and the fact that it was built with elevators in place, all serve as an expression of the firm's expansion and confidence at the time of construction."
Sadly, the upper floors are abandoned and deteriorating. Hopefully, this Victorian-era gem can be saved and restored.
Below is a rare 1911 ad for the Starr Piano Company in Nashville.
Thanks for reading!
Sources: