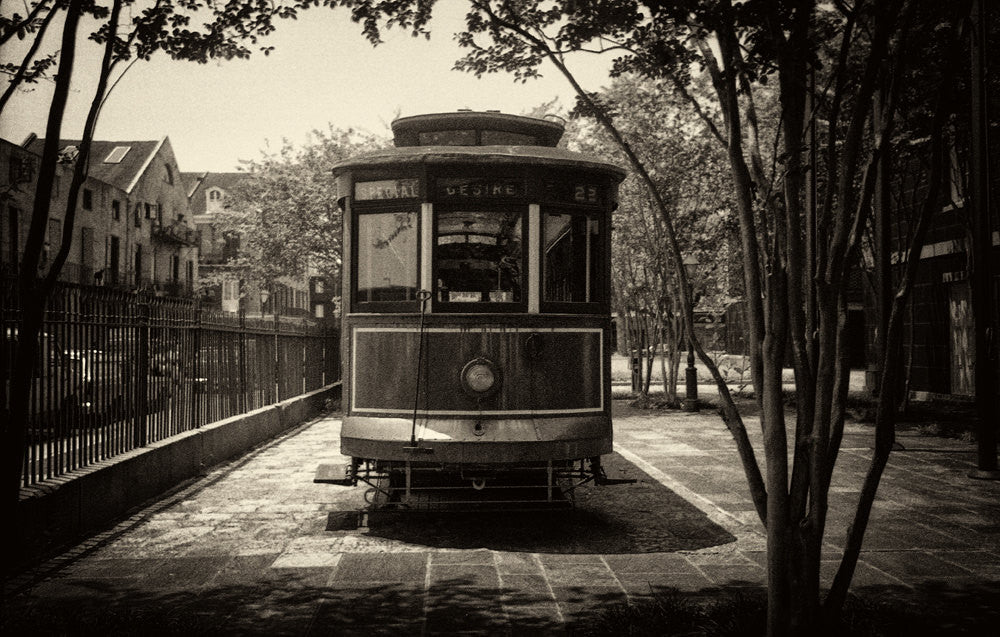 Genuine New Orleans literary history: a picture of the real "Street Named Desire," photographed in 1980s New Orleans
Made famous by the Tennessee Williams play and the Marlon Brando movie, this is a antique-toned black and white photograph of the actual New Orleans No. 22 streetcar named "Desire." After retirement, the streetcar was displayed in a park in New Orleans, but has long since been relegated to a warehouse. If you look closely, you can read the word "Desire" in the center panel above the window. On the left, it says "Special." On the right panel, the number 22.
This photograph was scanned from a film negative shot in the mid-1980s.
Prints for sale
8 x 12.5 inch fine art print on professional quality luster-surface Kodak photo paper, with a white margin around the image. Mounted on single ply acid-free white mat board. Ships in 3 to 5 business days, well packaged in a protective box.

Blurring and film grain are artifacts from the original film, which makes the print more interesting.

Also available on Etsy

Thanks for reading!


E-commerce is managed securely by the Shopify Payments System. We never see your financial information, and it never enters our servers.