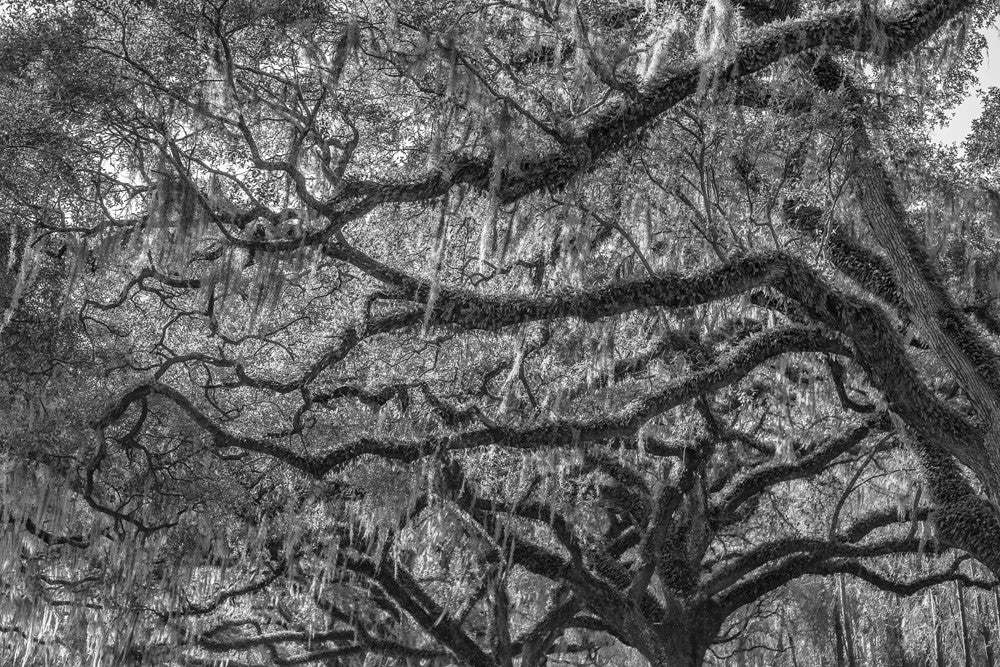 Celebrating the mighty oak trees from Georgia, South Carolina, Louisiana, and Southeast Texas.
As a landscape photographer, I've always relied on trees as a cornerstone element of my compositions. They are such a common theme in my work, I even had an entire gallery exhibition based around the subject of trees in Minneapolis in 2009. Trees make wonderful focal points, and they are often expressive in an almost human-like way.
The giant oak trees of the deep south are particularly beautiful subjects. Not only are the trees fantastically large, wonderfully gnarly, and often draped in romantic Spanish moss, they're quite literally rooted in the history of the region. Often planted by African slaves on the grounds of plantations, these trees live on as silent sentinels to the of the glory and shame of the region's complicated past.
The Oak Trees of Savannah and Coastal Georgia
Avenue of the Oaks – Savannah (IMG_7783)

One of my best-known and most popular landscape photographs is "Avenue of the Oaks – Savannah." This photograph shows an unbelievable place–the long, tree-lined entrance road to a long-ruined colonial-era plantation house near Savannah, Georgia.

The driveway to Wormsloe Plantation, near Savannah, runs 1.5 miles, lined the entire distance by 400 giant, overarching oak trees, which were planted in in the 1800s. Riding slowly along the canopied driveway, it seems to go on forever. The Wormsloe Plantation site hosts a small museum, the ruined walls of the old house made of tabby (oyster shell) concrete, a gravesite, and lovely property along the shoreline. But the visit is worthwhile simply to see the tree-sheltered entry road.
This photograph was taken on a dark, rainy day, which added to the moody atmosphere and eliminated the problem of harsh shadows on the road. "Avenue of the Oaks – Savannah" has been featured on a number of photography websites and was exhibited in a group showing at LACDA in Los Angeles. See the rest of my Savannah Portfolio here.
Oak Tree Draped with Spanish Moss (IMG_3986)

Georgia's great oaks are typically heavily draped with Spanish moss, adding to the romance and sense of place along the southern Atlantic coast. The tree shown above was photographed in early morning sun light, on the grounds of Old Fort King George. Barely visible in the background is a coastal marsh, buffering the Atlantic shore.
Oak Branches Draped in Spanish Moss (IMG_4071)
Wormsloe Road Oak Trees: Black and White Landscape Photograph by Keith Dotson.
Big Oak Tree in a Historic Savannah Square - Black and White Photograph by Keith Dotson
Row of Old Oaks with Spanish Moss: Black and White Landscape Photograph by Keith Dotson
The portfolio includes more photographs of oak trees, but also images made inside the historic city of Savannah. Click here to see the Savannah Portfolio. All the photographs are for sale as fine black and white prints.
Big Trees of the South Carolina Low Country
The coastal region of the Carolinas is known as the "low country" (or lowcountry). This historic area is characterized by its own geography and unique culture. The landscape features low, flat grasslands, abundant marshes and wetlands, coastal islands, and widespread forests of oak, cypress, pine, and palmettos. Sweetgrass was used by the African slaves to make characteristic basketry. Indigo and rice were highly profitable cash crops of the early plantations.
Big Southern Trees in the Low Country Forest Near Charleston (DSC01052)
Two Big Southern Trees with Ferns in their Trunks (DSC01053)
Oak Tree with Ferns - Black and White Landscape Photograph by Keith Dotson.
Edisto Island Oak - Black and White Landscape Photograph by Keith Dotson
Louisiana's Giant 300-Year-Old Oaks
Like Wormsloe Plantation in Georgia, many of Louisiana's magnificent oak trees were planted by the hands of slave laborers. Those involuntary planters left a gift that has lasted many generations. In fact, a number of south Louisiana's oak trees are 300 years old or older.
Big Oaks at Oak Alley Plantation, Louisiana (RQ0A4841)
Unlike Savannah's much older Wormsloe, Oak Alley's house in Louisiana is still intact, and in fact, it's a quite beautiful example of a southern antebellum plantation house. It's so well preserved, it's been featured in many movies and TV shows, and had a starring role in the Tom Cruise/Brad Pitt classic Interview with the Vampire.

Oak Alley's grounds are dotted with great oaks, but the name derives from a walkway to the front of the home, lined with absolutely massive 300-year-old oak trees.
Tree with Ferns Growing in the Bark, Lafayette, Louisiana (A0010981)
Houston's Big City Oaks
Houston is the fourth largest city in the US, and with its traffic jams, glass and steel skyscrapers, and oil refineries, it's easy to forget that Houston is also a southern city . . . a bayou city. And like nearby Louisiana, Houston is home to giant, ancient oak trees. The oaks pictured below are all in the bustling urban core of downtown Houston.
In the Shade of the Mighty Oaks, Houston, Texas (DSC00481)
Big Oak Tree Outside the Harris County Courthouse in Houston (A0017791)
Branches of a Giant Oak Tree in Houston, Texas (A0017811)
Branches of a Mighty Oak, Houston, Texas (A0017839A)
See the rest of my Houston portfolio here.
Thanks for reading!

Be sure to visit me on Facebook or Pinterest.

~ Keith