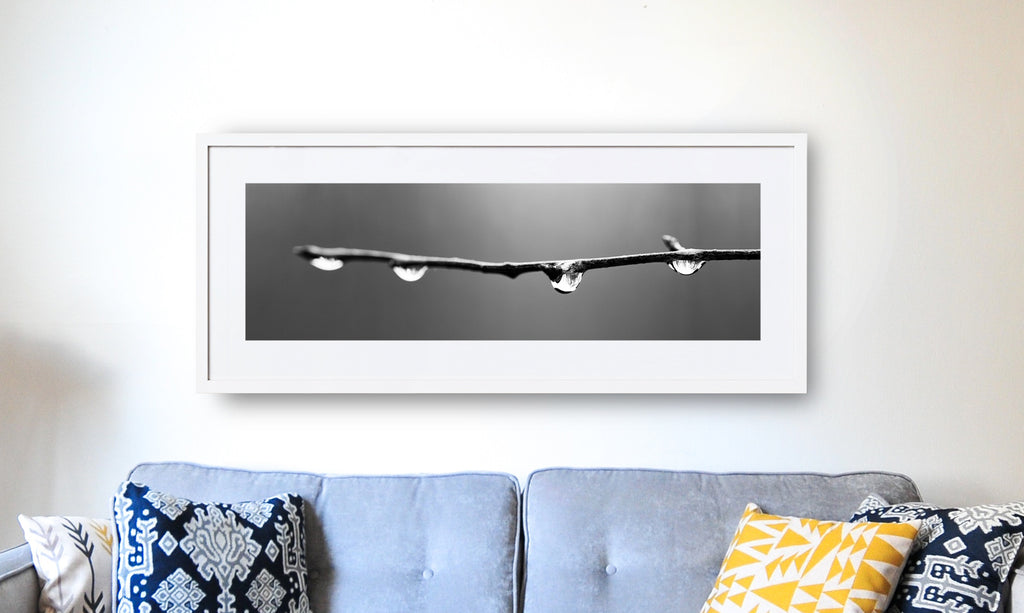 Suggestions for collectors who are uncertain how to frame their new photographs
Framing, like art, is a very personal and subjective matter. You may want to match your home furnishings style, or follow a contemporary design trend. You may have a very clear image in your mind how the photographic print should be displayed, or you may have no idea how to proceed.
We always recommend having your print professionally framed. In addition to making a beautiful presentation for displaying your photograph, framing also serves as a means to protect and preserve the print.
If you've purchased an unframed photograph and are not sure how to proceed with framing, below are a few tasteful and timeless suggestions.
Gallery frames with mat
Neutral, clean, and simple framing is usually the best option for highlighting the beauty of a photograph, in our opinion. A black or white frame with a white over-mat (in 4-ply or 8-ply thickness) allows the photograph to be the superstar of your wall. Gallery frames come in metal and wood.
Keith always signs his prints in the white margin outside the print area, allowing the buyer to decide whether they prefer to show the signature, or cover it with a mat.
Black and white photograph of the old Farmer's Exchange Bank in Charleston, shown with double-thick 8-ply mat in a low-profile black metal gallery frame. In this example the mat is cut larger to reveal the signature.
A photograph of architectural rubble in a black wood gallery frame with 4-ply white mat. Here, the mat is cut to the size of the photograph, covering the signature.
Black and white photograph of a feather in a white gallery frame with a white mat covering the artist's signature.
Creative matting can be used to enhance the look of small images like this Polaroid print shown in a white mat and black metal frame.
Framed without mat using spacers
As an alternative to using an over-mat, the photograph can be framed to fill the entire frame. The key here is that the photograph is not allowed to be sandwiched against the glass of the picture frame, but is held apart using specially-designed, hidden spacers.
Below is an example of this framing style, seen at a company in Texas, using very large prints of Keith's photograph.
Very large side-by-side prints by Keith Dotson framed in wood frames with no over-mat.
A diptych of two photographs by Keith Dotson in black wooden frames with no mats.
Work with your professional frame shop
The examples shown here are just models to show how simple and tasteful framing effectively highlights the photograph. Work with your frame shop representative to discuss options and frame styles that make you happy and suit your needs. Not only will they do a great job making the photograph look good, they will make sure it's housed in acid-free and UV protective materials.
Above, a large photograph by Keith Dotson, wrapped in plastic and seen in the Nashville shop where it was framed.
Hire an art installer
Did you know that there are professionals who will install art on the walls of your home? Most larger cities are home to companies who install art in galleries and museums, but they will also do the job properly in your home. This is especially helpful in difficult installations with oversize or heavy art, or in complex gallery wall arrangements.
Below is a complex gallery wall arrangement of Keith Dotson's work in a Nashville restaurant. Imagine aligning and spacing this many frames accurately! The pro installers did the job well.
A collection of Keith Dotson photographs professionally installed in a Nashville restaurant. This is not the kind of project that should be undertaken by an amateur.
Most importantly, enjoy displaying your new photograph in your home or office!