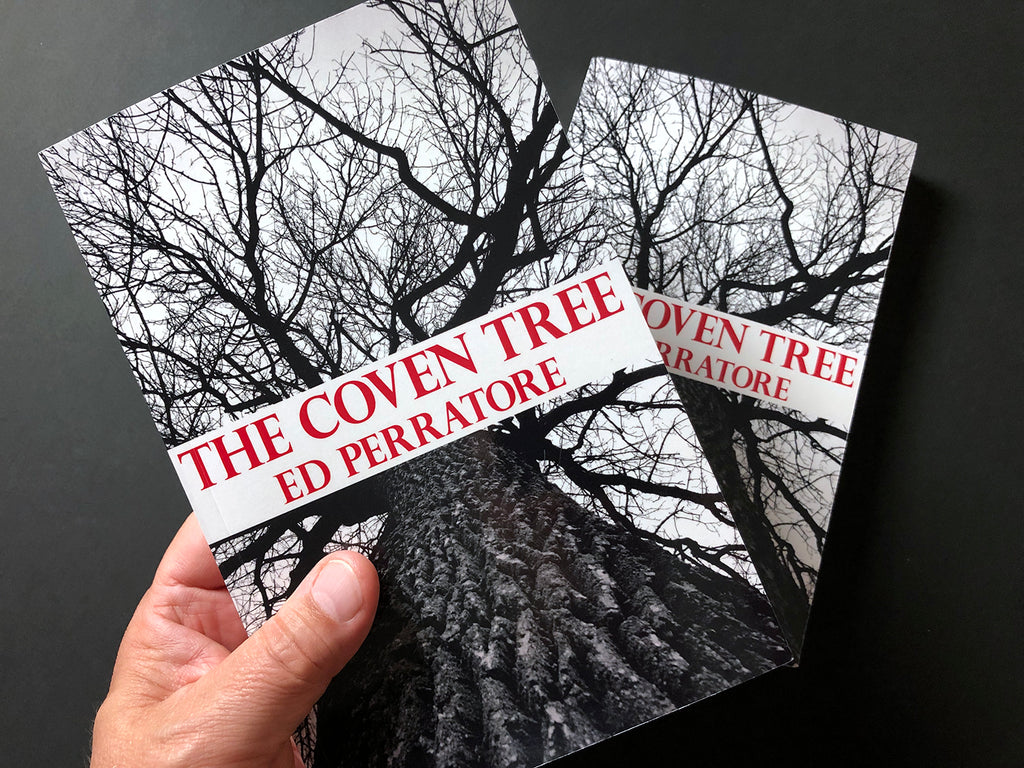 Keith Dotson's 'Giant Cottonwood Tree in Winter' photograph appears on the cover of spooky new novel by author Ed Perratore
Fine art photographer Keith Dotson is excited to announce that his photograph 'Giant Cottonwood Tree in Winter' is featured on the cover of The Coven Tree, a new horror book by author Ed Perratore. Published in August 2021 by Boat Tail Press of Fort Myers, Florida, the story centers around a grieving couple who bring home a new piece of furniture offered by an upstate New York antiques dealer at a steep discount. Why is the seller so eager to get rid of the beautiful highboy?
The Coven Tree, a new horror novel by Ed Perratore, with cover photograph by Keith Dotson. 
Keith Dotson's photograph of a giant cottonwood tree, as seen on the cover page of The Coven Tree written by Ed Perratore.
Many thanks to Mr. Perratore for selecting Keith's photograph for the book. We have only just begun to read the story, but so far, it's quite compelling.
Below is the synopsis quoted verbatim from Amazon's listing for the book:

"How could they turn it down? Johanna and Daniel Keane know that nothing whatsoever could ease the loss they're feeling from the second of two miscarriages. Then, at an antique shop, they chance upon an exquisitely crafted highboy. It's something else to think about, at the very least. And when the cabinet's manic builder offers it for a fraction of its apparent worth, the Keanes snatch it up as a bargain.

When the highboy arrives at their home, however, it brings something else besides grandeur. Visitors witness terrifying scenes. Deaths occur without explanation. And slowly, the highboy manages to ravage the very lives of Johanna, Daniel and their sixteen-year old son, Randall—where they're most vulnerable. As answers to its origins emerge, the highboy begins to further mutate: into an instrument of dark vengeance borne of a centuries-old curse.

Too late, the Keanes come to realize what is at stake. But is it too late to save their family from an evil as old as creation?"
About the author, Ed Perratore 
Ed Perratore has been a professional writer for more than 30 years, with thousands of bylines on topics ranging from technology to health. Ed is a former staffer at Consumer Reports and PC Magazine. His credits include Reader's Digest, Newsweek, the Newark Star-Ledger, PC Magazine, Byte and Computer Shopper. When he's not writing, Ed enjoys hiking, photography, fishing, and spending time with his wife Elena, and his family which now includes a grandchild.
Other credits from the book:
Cover layout and production by Andrew Perratore
Photo research by Phyllis Abshier 
Author photograph by John F.X. Walsh
Buy a fine art print of Giant Cottonwood Tree in Winter
Fine art prints are available in a wide range of sizes and prices on museum quality paper. Free shipping inside the U.S. Click the photograph to learn more.
Giant Cottonwood Tree in Winter, a black and white photograph by Keith Dotson. Click to buy a fine art print.
---
This blog post contains an Amazon Affiliate link. We may earn a small commission from qualifying sales.