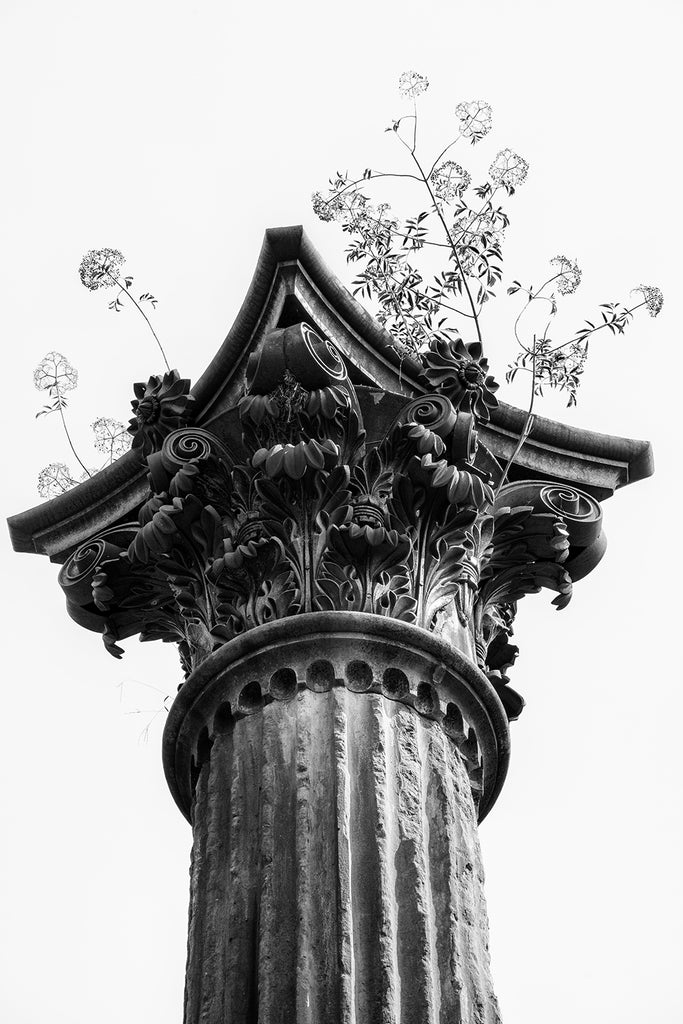 Photographs of 23 mysterious columns still standing on the grounds of a southern mansion that burned down long ago
Windsor Mansion was built in 1861 near Port Gibson, Mississippi. The big house survived the Civil War, but was accidentally burned to the ground in 1890 when a visitor tossed a hot cigar into construction rubble during a renovation. 
29 Corinthian columns survived the fire, along with cast iron staircases and balustrades, which were removed from the site over the years. One of the staircases can be seen on the campus of nearby Alcorn State University. 23 columns are still standing — 40 feet tall atop 10-foot plinths.
The iron capitals atop the columns and other ironworks were shipped to the site from a plant in St. Louis. Bricks were manufactured onsite by slaves, who also did the bulk of the construction, although skilled laborers were hired for some of the finishing work.
The only known sketch of Windsor Mansion intact, drawn in 1863 by Henry Otis Dwight, a Union officer from Ohio
The home's owner, Smith Coffee Daniell, died at age 34, just weeks after its completion. It's said that Mark Twain visited the house, and watched over the Mississippi River from its cupola. The only known drawing of the house was made in 1863 by a Union officer who sat in the shade of a large tree that still stands on the property. That's probably the same tree where legend says widowed homeowner Catherine Daniell took shelter in 1890 to watch as her home went up in flames. Today, the ruins are listed on the National Register of Historic Places (1971), and have been slated for an upcoming restoration and stabilization project.
The hauntingly beautiful location, situated among the woods deep in the Mississippi delta, maintains a real sense of mystery. The vision of the fractured but majestic Corinthian columns, with plants growing from their ornate capitals, evokes ideas of fallen empires, haunted mansions, and the march of time.
Black and white photographs of the ruined Corinthian columns of Windsor Mansion
Fine art black and white prints are available from these photographs. Click the image to learn more.
Ruins of a Corinthian Column with Weeds on Top, black and white photograph by Keith Dotson. Click to buy a fine art print.
The tall columns at Windsor Ruins, black and white photograph by Keith Dotson. 
Four Corinthian columns at the Windsor Ruins, black and white photograph by Keith Dotson.
Columns at Windsor Ruins Silhouetted Against the Sun, black and white photograph by Keith Dotson.
Windsor Ruins, black and white photograph by Keith Dotson.
Video: Join Keith as he explores the Windsor ruins
Sources: