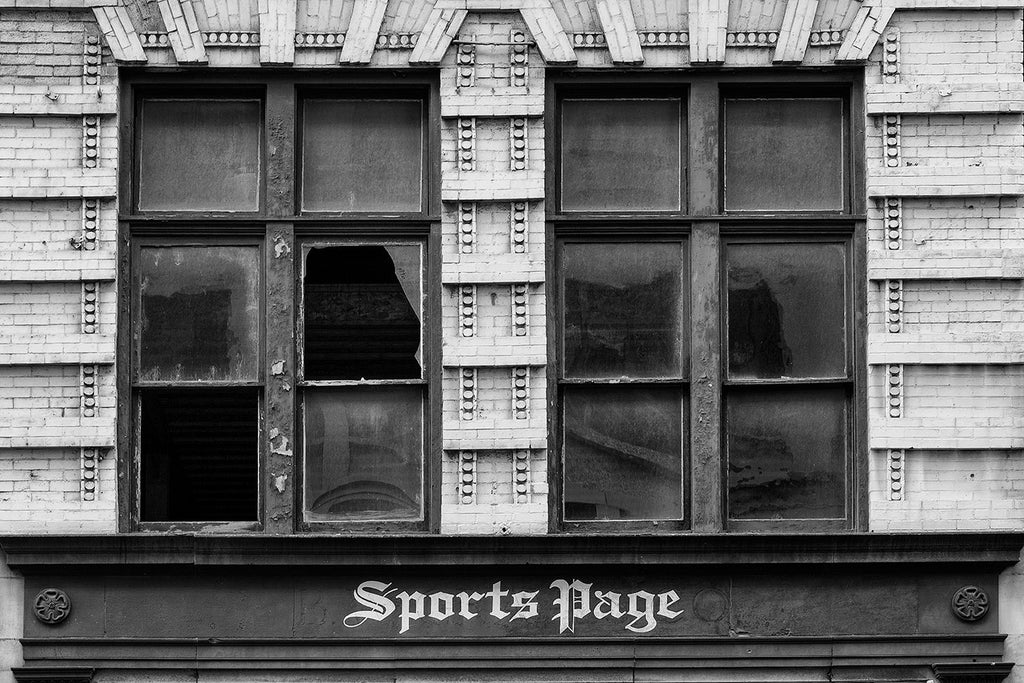 Former Nashville clothing store, on Union Street since the 1940s, now abandoned
Updated Feb. 2019: See the comment section for the latest news on a happy outcome for this old building. 
At 419 Union Street in Nashville, one door from Arcade Alley, stands an empty building that still features a white sign that says "Sports Page." Slightly visible beneath those white letters is the painted-over name of the business that occupied the space previously, the B.W. Graves Co., a historic clothing store owned by Byron W. Graves. Graves, who died in 1948, owned stores in five southern cities, according to his obit in The Tennessean newspaper (dated Tuesday, August 24, 1948).
---
Buy a fine art black and white print of this photograph.
---
The B.W. Graves Co. clothing store moved to the 419 Union location in 1943, but was in business for many years prior to the move. One of the newspaper ads shown below dates from the 1920s.
Google street view image shows 419 Union Street in 2016, after being vacated by the Sports Page bar and grill.
The Sports Page was a street-level sports bar and grill in business from at least 2011 - 2014 (documented by dates of Yelp reviews), with the upstairs remaining unused. One of the reviewers said that the Sports Page staff gave them a tour of the empty space on the second floor.
Sadly, the building has deteriorated, with broken windows visible on the still vacant second floor.
Historic ad for the B.W. Graves Co. published in The Tennessean newspaper on Oct. 11, 1927
This 1943 newspaper ad announces the store's move to 419 Union Street.
This undated photograph shows the building, probably in the 1960s, when it was a lender. Photo courtesy of the Metro Nashville Archive Facebook page.
See Keith's other black and white photographs of historic Nashville architecture here