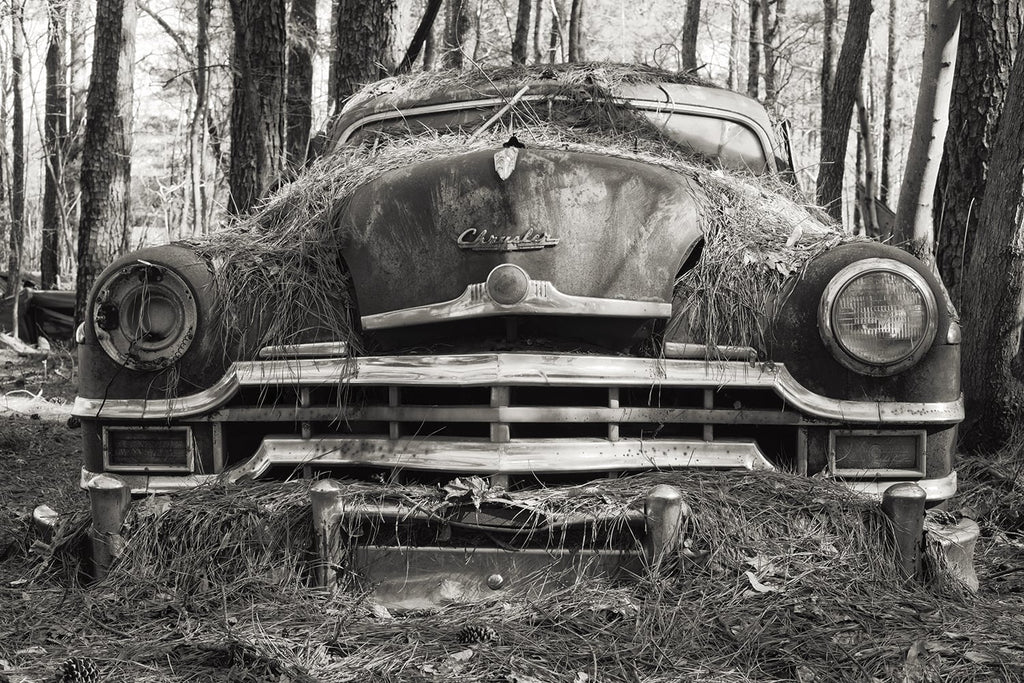 Selenium toned black and white photograph of a rusty and retired antique Chrysler automobile that has been abandoned in the country. A fine automobile like this would have been the pride and joy of its owners, and represents an era of classic automobiles that will never happen again.
This is an actual darkroom-style print on silver gelatin fiber-based paper, which has then been chemically toned with a 1:9 selenium toning solution. Selenium toning subtly alters the color and tones of the black and white print, and also adds to the overall longevity by making it more archivally stable.
This is a signed and numbered edition of 7 in each size. The price will increase with each print sold. This photograph is not available in any other format on my site.
Prints are custom made upon purchase and will take 3 - 4 weeks to produce.
Fiber-Based Silver Gelatin Print with Selenium Toning:
Museum-quality wet-processed fiber-based silver gelatin print
Chemically toned with selenium at a 1:9 dilution to enhance beauty and longevity
Limited edition of 7 signed/numbered prints in each size
Superior archival quality and surface beauty
Printed on 310 gsm thick paper
Moderately glossy surface
Unless otherwise stated, ships without top mat, mount, and frame
Signed and numbered on the back in pencil
Ships in 3-4 weeks
Free shipping inside the US (ask for a custom price to ship outside the US)
Important:
The images shown here are photographs of an actual selenium toned artist proof (sized at 8 x 12 inches). The color of the actual print may vary slightly. We have done our best to represent the actual color of the toned black and white print. 
The effect is subtle, but is somewhat

 

exaggerated as shown here.