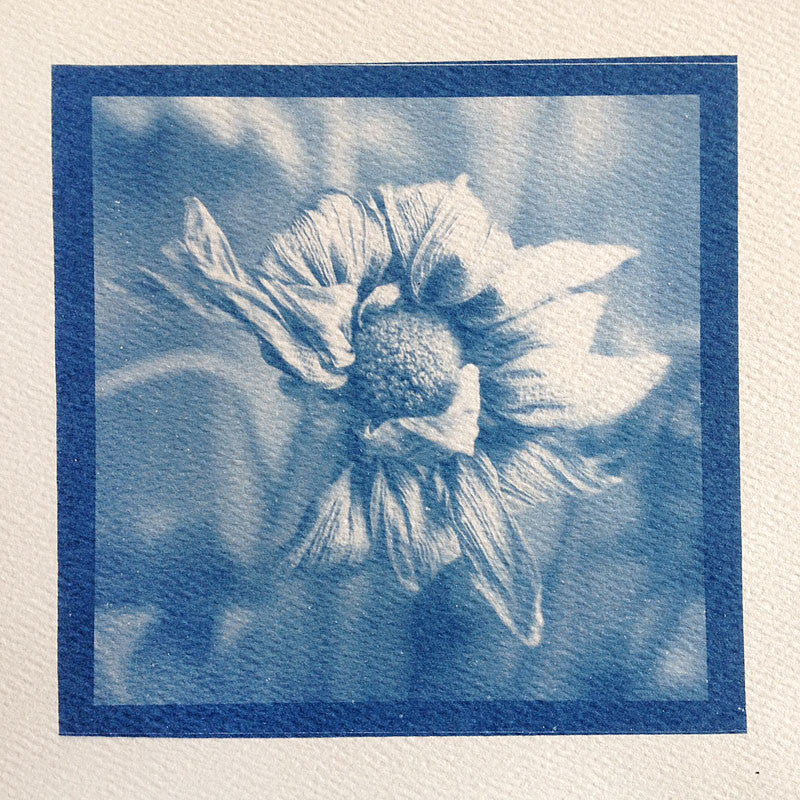 This is a unique one-of-a-kind handmade cyanotype print of a drying dead flower blossom, printed on acid-free rough watercolor paper.
Edition of ten, signed and numbered.
3.5 inches square image area in a 12" square mat.
Matted and mounted - ready to frame.
Cyanotypes are often referred to as an "alternative process," but they are actually an antique historic process. Cyanotypes are a form of contact print, which means they are printed from a negative that is the same size as the final print. The negative is sandwiched against the sensitized paper under glass, and exposed to UV light (traditionally the sun). The exposed paper is then washed in water until fully developed.
Detailed specifications:
Real chemical cyanotype on rough watercolor paper (not an inkjet color print)
Image size is approximately 3.5 inches square
Signed and numbered in pencil on the back of the print and on the back of the mount
Limited edition of ten cyanotype prints from this negative (with two artist proofs)
Matted to 12 inches square and mounted on acid-free white mount board
Comes to you carefully packaged, without frame
Ships in 3-5 business days
Free shipping inside the US
NOTE: Because this is a handmade process, each exposure and development is different. That means your print will vary slightly in tone and contrast from the image shown here.
Learn more about cyanotypes here. (Opens in a new window).