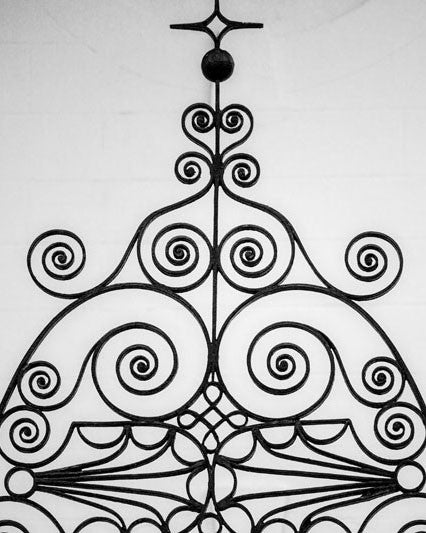 Black and white photographs of the beautiful, decorative ironwork of Charleston and New Orleans
Charleston and New Orleans share many similarities. Both are coastal cities in the American South with long, rich histories. Both cities enjoy flourishing, multicultural culinary legacies, stemming from complicated pasts and diverse influences — especially those of enslaved Africans. And both cities maintain a wealth of historic architecture, including churches, homes, and commercial buildings.
Charleston and New Orleans also share a common architectural element — both cities are renowned for their history of craftsmanship in the creation and use of beautiful, ornamental ironwork. New Orleans is famous for its ironwork balconies in the French Quarter, but ironwork can be seen across the city, along Canal Street, and in the famous cemeteries like St. Louis No. 1 in the Faubourg Tremé neighbohood.
Charleston's long history of fanciful ironwork fences, gates, and doors can be seen in use across its historic peninsula, with very old examples on display in the Charleston Museum.
The historic decorative ironwork of Charleston
New Orleans famous ironwork balconies and more



Suggested readings:
Charleston Ironwork: A Photographic Study, 1st Edition by Charles N. Bayless
Ornamental Ironwork of Charleston by William P. Baldwin
Charleston Blacksmith: The Work of Philip Simmons by John Michael Vlach, PH.D.