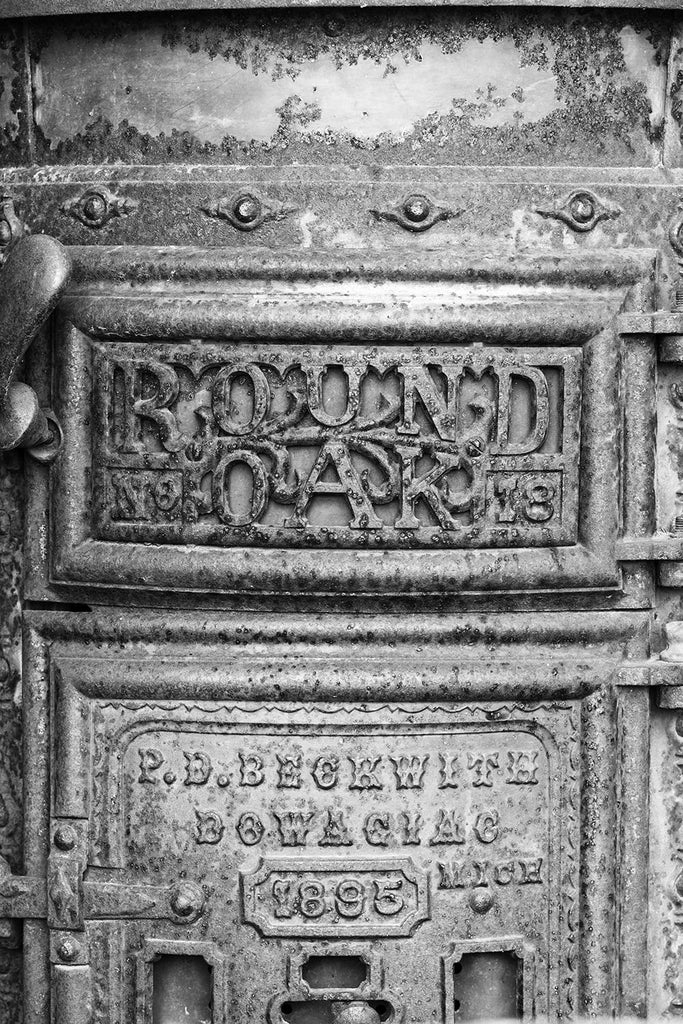 History of the Round Oak stove company
While photographing an almost ghost town in Kansas, Keith discovered this rusty gem inside a collapsed old brick building. It's a Round Oak No. 18, dated 1895. The "No. 18" indicates the stove diameter.
The stove also says "P.D. Beckwith, Dowagiac, Mich".
Round Oak stove models featured the year of manufacture on the bottom feed door from 1890-96. Other models are more difficult to accurately date.
Round Oak stove among the ruins of a collapsed building in Kansas
Brief history of the Round Oak stove company
Philo D. Beckwith, a New Yorker born 1825, opened a foundry in Dowagiac, Michigan in the 1850s and dedicated it to making Round Oak stoves in 1871. With quality ads and construction, Round Oak stoves became an industry leader. Beckwith attained such success with Round Oak stoves that he was elected mayor of Dowagiac, and became a major local philanthropist. He died in 1889, leaving his son-in-law to run the company. Business grew well into the 1900s, employing up to 1,200 people.
---
Buy a fine art print of this historic 1895 Round Oak stove
Circa 1895 Round Oak No. 18 Stove: Black and White Photograph. Click to buy a fine art print.
---
Starting in 1914 and going through the 1930s, Round Oak suffered the loss of key long-term employees, poor management decisions, and the strain of the Great Depression. By the end of WWII, Round Oak was in major decline, and closed permanently in the 1947.
Dowagiac, Michigan hosts a museum for the Round Oak stove company, which closed in the 1940s after 75 years in business. You can learn more about the stoves on their website here. They are the primary source for this article.
See Keith's black and white photographs of this old stove and other photographs of Kansas in my portfolio here.
Behind-the-scenes video: Discovering the Round Oak stove in an abandoned building